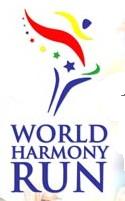 Me For World Harmony

This Friday, I supposed to watch Kylie gyrating her famous bum in her Showgirl Tour in Singapore. However, now she is stricken with breast cancer and had to cancel. But the trip must go on as I have already bought the train tickets and booked the hotel. Anyway, The Great Singapore Sales is on. So, it will still be a worthy trip. I get to know about World Harmony Run in Singapore from
Lonely Runner's blog
and decided to sign up for it. It is free and for a good cause. World peace is everybody's dream, right? So, I wrote to the organizer and I am impressed with the speed of their response and willingness to help. I can't wait for this Saturday's run.
Dear Organiser, Could you provide me the more information/ brochure on the run? 1) How do I get to the start point from Orchard road? 2) What is the itinerary/ schedule? 3) Is T- SHirt provided? Regards,
Dear Mr, Thank you for taking interests in the coming run. To answer your questions: 1. From Orchard there are buses that go near to the park but you still need to change buses at Thomson road. Bus 162 and 132 from Scotts Road. Alternatively, just hop into a taxi. 2. Meeting / starting point is Car park B of MacRitchie Reservoir 3. Distance is 4.8 km. This is a very popular route and there are marshals along the way so not to worry. 4.We will give you a WHR sticker to identify you as one of the participants so the marshals will know. 5. As this is a free event, we will only give out a certificate of appreciation Only those taking part in the 30km will be wearing a singlet. For more information pls go to www.worldharmonyrun.org choose the singapore folder and you will see more info there.
see you then, whr team member
Dear Organiser, Thank you for your quick response. I have a few more questions that I hope you don't mind. 1) Will drinking water be provided? 2) What time should the participants be at start point? Is 7:00am fine? 3) Is there a place to deposit bags? Regards,
Dear Mr, to your questions: 1. Yes, drinking water is provided for 300 participants. 2. Opening ceremony is 7.20am and the run should begin by 7:45am 3. You can deposit with us at the baggage counter. We will keep your belongings until 9:30am after that we will bring any uncollected belongings to Ang Mo Kio South Police Centre at AMK ave 3(direct bus from MR : Bus 74) 4. Hv you register your name at www.geocities.com/whr_sg? cheers, whr organising committee.